The SPS Summer Academy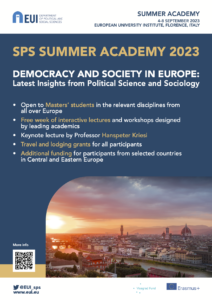 The Department of Political and Social Sciences (SPS) at the European University Institute (EUI) in Florence announces the fourth edition of its summer academy, which will take place on 4-8 September 2023. It offers talented master's students in the social sciences, coming from all over Europe, a week of full immersion into the stimulating intellectual environment of cutting-edge research and debates at the EUI.
The theme of the SPS Summer Academy is Democracy and Society in Europe: Latest Insights from Political Science and Sociology. The programme consists of lectures by some of the SPS professors including Simon Hix, Filip Kostelka, Arnout van de Rijt, Waltraud Schelkle; a guided tour to visit the city of Florence; workshops held by postdoctoral fellows; as well as attendance at a keynote lecture given by Professor Hanspeter Kriesi.
The summer academy is free of charge, and participants' travel and accommodation costs are reimbursed up to €500. Participants from Central and Eastern Europe are eligible for additional financial support (up to €880 in total) thanks to the sponsorship by the International Visegrad Fund. Only master's students are eligible, and the application deadline is May 15. All information can be found on https://blogs.eui.eu/sps-summer-academy/.